Sunday I went out to the Marina Green 5k with DSE. Crissy field in San Francisco is such a smooth happy place to run! I didn't bother looking at the course beforehand and just took off with the crowd. I don't run if you haven't gotten that yet I walk. But I was feeling good after chilling Saturday and for once the kids weren't with me as there was a kids run later in the day so I ran. I listened to two songs and then I see people turning around. I couldn't believe that I was at the turn around already, I was thinking this is so awesome after a half a 5k really is no big deal. then a bit after the turn around I saw the mile 1 marker. I was so bummed, I ran the first mile but then I was just exhausted I thought I was more than half way and I was only 1/3 of the way. It was a bummer then I lost my oomph. I'd been up with my son almost the whole night with his disease acting up so I was running on low fuel and so after that I just slowly walked the rest. When I came across the finish line it was 42:48, 30 seconds slower than my PR! ugh I should have just kept going, oh well hopefully I'll make a new pr on the 5k distance soon though!
now we move on to Monday. Labor day Monday. I signed up to do the Zombie Runner Vasona Lake 5 miler. A friend "Ultra Woof" signed up to do the half marathon, the courses were the same for the first 5 miles, an out and back then the remainder of the half marathon went out and back from the finish line the opposite direction. We all took off at the same time so Woof and I hung out for the first 5 miles and had a blast, she didn't want to go on and do the half when I finished so she was going to quit at 5 miles, and I couldn't have that, so at the finish line I waved to the race director and told him I was doing the half marathon and off we went. Very unexpectedly I found my self doing my second half marathon a mere 9 days after my first. It was a very flat course for like 60% the rest was a mountain. We walked almost all of it and chatted and had fun, came in at 3hours and 56 mins! lol it was a blast. And now I'm a half fanatic! weee. I wore one pink and one purple calf sleeve in honor of Ed (see saturday) since he wears mis matched calf sleeves as part of his Jester outfit, and he finished his 6 day run just as we were starting our race.
ok that's a ton of chatter so here's a picture! (did I mention we had a lot of fun out on the course as demonstrated by this pic)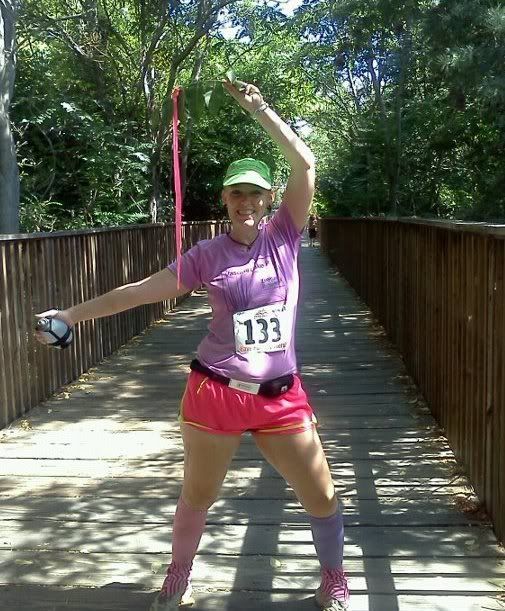 Saturday I actually had a weekend day with no racing activities!! A friend Ed, Mad Hatter Fancy Pants, was running the silverton 6 day challenge and they had a web cam set up so I chilled and watched "Ed TV" and watched Ed lap constantly. He runs in a jester suit so it was extremely entertain. The guy is amazing!