Nanny Goat Race Report '13
Tony Ryan and I drove up early Friday. We managed to score the bay area a stall, I spent a good chunk of Friday afternoon decorating the stall as I'd learned last year that decorated stalls are very fun and much encouraged, this year I had a plan and brought supplies! I made a giant crepe paper golden gate bride on one wall. After that was all done we made a trip to target for some last minute supplies then we all (save Chris who likes rice) got a nice carbo loading dinner at Cheesecake factory. We camped out at the race in a large tent snug in sleeping bags.

I woke up about 5:30 am with the sun coming up and runners talking and getting excited outside the tent. After getting dressed I headed out on my super long commute from the tent 5 feet to the barn entrance. Many people were wishing me good luck for my 100mile race, and did not believe me when I told them that was not my goal. Honestly it wasn't, I did 64 miles at Nanny Goat last year and that was my first marathon and ultra all in one go, I didn't make it the full 24hours and my goal this year based on my March Razorback 100k was to move for 24hours and to hit around 80miles. I took some time to set up my little aid station table with my favorite nutrition and the key things I knew I'd need during the race.



Steve corralled all the goats in the goat pen, gave us a stirring speech about dodging the sleeping dogs, no lassoing horses, avoiding attack chickens, making sure our laps were counted as there would be no added laps, and to give lots of beers to the race directors. Then we listened to an amazing rendition of the star spangled banner while Lucy held high the American flag.



The weather was cool but not cold, it was ideal running weather and I like many others went out pretty fast for this being a 24hr (or more!) event. I got pretty worried when I PR'd my 10k distance, I tried to hold back some slow down some. Still I PR'd my half marathon distance too. Then I was really worried that I was going to just crash and burn too early in the day. I started making myself walk at least the grass part. Then the sun suddenly made an appearance. It went very quickly from overcast to hello sun! I've learned that I do not do well with heat. I did not PR the marathon (by like 4mins) but was still way ahead of pace for the 100miler.



Right about the marathon distance I started thinking "hey maybe 100miles is a possibility" I was feeling good and despite the weariness of the heat my body felt great. The energy from the other runners was fabulous I was doing pretty good with nutrition and not having GI issues other than a small case of heartburn (tums to the rescue!). My fluids were going well I was on a roll. PR'd the 50k distance and was still feeling good. Around this time as I passed through the barn I told Steve Harvey (the old goat race director) "if I finish 100miles I'm getting a Nanny Goat tattoo!" I still didn't think 100miles was really possible, as I knew soon things would really start hurting. I've never gone beyond the 64miles that I did at Nanny Goat last year.

As I was sharing a lap with Giovanni we were talking about how I'm anti-sun, being the pale white girl that I am. He remarked on how tan I was, I looked down at my legs and couldn't help but laugh indeed I looked really tan but I had to admit "that's dust not tan!!" and to illustrate I showed him a peek of my belly, it was a good thing he had sunglasses otherwise I would have blinded him with my white-ness! Maybe that should be my race strategy run in a sports bra so I blind all the other runners and win easily! All the rest of the day I kept laughing at a new form of fake tanning- the nanny goat tan!



At mile 40 I had my first break I sat for 5-10mins and did some preventative foot care. The course is really dusty and I washed my feet with handy wipes, re-lubed them, got new socks, back in my same shoes and off I went. Things started getting tough at this point my pace was slowing down things were aching a bit. My left knee felt like it was a bit wobbly I tried KT tape for support but that didn't even make it out of the barn before it fell off. This is when I hit my first wall.



As I approached the 12hour mark I realized I wasn't going to get the 50miles in that time, got kind of dispirited and was very tempted to drop to the 12hr event. I gave myself a mental pep talk and with a bit of verbal prodding from Ryan (crewman and husband extraordinaire!) went out on the lap that would officially make me go into the 24hr event. Once I got that temptation to drop to the 12 out of the way I got moving again.



The dark hours are kind of a blur mentally I think I zone out some during this time, I know I took my second break somewhere and put some pants on as it cooled off. Also my heartburn issues were returning and Loren saved me with a combo short and fast acting antacid. Still no nausea and my hydration was going well. I ate some vegetarian cup-of-noodle like soup, which was fabulous, and I had some rice. The company started thinning out on course but there were still lots of people I knew and saying hi to each other and occasionally sharing parts of laps were very helpful. One of my favorite nighttime things of looping courses is seeing Ed the Jester's light up hat throughout the night.



Towards the end of the night the possibility of me finishing the 100miles was becoming real to me, I was on pace and while things were definitely hurting it seemed possible to hike out the rest of it. But then as the sun rose my spirits took a major turn for the worse. I'm a very logical person I like numbers and having plans. Sadly though a first grader probably had better math than I did at this point though, I had some how got in my head that I had to keep 16minute miles for the next 28 miles in order to complete the marathon and while I could push and do that pace walking then I knew things were going to get much tougher before it was over and I kept having visions of Tony being forced to drop at 88miles last year. I saw myself hitting the cut off but then not being able to finish the 100miles. I got in a real mental funk over this one.

As my mind kept looping around this incorrect (though at the time I thought it was correct) math I heard jingles approaching. Ed could tell something was off with me and struck up a conversation. I'm not a very emotional person and that moment was the most emotional I've ever been during a race. I had finally thought I could do 100miles and had gotten excited about it but then felt it slipping through my fingers like tiny grains of sand. Ed very logically talked me though it and it was still a possibility!



My garmin was charging in my pocket and I couldn't see my pace so I was very worried that I wouldn't keep the proper pace. Ed sacrificed the end of his 24hour race to pace me to that cutoff at which point it was decided that Giovanni would take over pacing and get me to the finish line. My pace slowed but it stayed on target enough, Ed distracted me and we talked about so many different subjects it really helped pass the time. Relentless forward progress with the Jester was amazing I really don't know how to put into words what it means to me that he looped so long with me. I really felt like I got to know Ed so much better there is nothing like shared miles to get to know someone especially when you are in so much pain. After the 24hr mark passed Ed stuck with me and paced me all the way to the end. I remember how excited he got that I was down to single digits, it wasn't about 9 miles more to go but the relentless progress, single digits!!



Some laps were shared with Colleen also some were shared with Giovanni and sometimes I had a whole little entourage keeping me going. Those final miles were the toughest miles I've ever done in a race physically to hurt and be that stiff and yet keep putting one leg in front of the other is an amazing thing. Was I running? Definitely not, but I was getting closer and closer with every step. The company was amazing and I don't think this buckle would have happened with out the amazing support of my fellow ultra runners. When I finally made it to 99 that last lap really was a victory lap, Ryan Ed and Giovanni all were with me. As we got to the out and back section Ryan Launder was waiting with jester hats for us all so we could finish in true jester style! As I made it to the hated orange cone for the 100th time I knocked it over as a final gesture, that was very cathartic. I on my 98th lap I saw Jeff Liu give a double birdie flip to the orange cone, and realized I had to do something too. I really wanted to kick the cone over but figured I'd put my legs through enough abuse so I smacked that sucker over. I hear a rumor that it's going to have a face on it next year so it's harder to beat up. Finally we made it back to my favorite section of the entire course the smooth through the tree's last stretch before reaching the barn. That section is always shady and feels so good. Then came the turn and there was the barn!


The finish was magical and honestly I don't remember it all too well, I was exuberant and on a total adrenaline high. I hope I hugged and thanked everyone present because they all were so pivotal in my day. Steve Harvey was waiting with my buckle on my belt already and a DFL prize! Ace limed over with a crutch because his leg was thoroughly pissed off after 100miles. Chris Jones was there making his usual stink. Jeff Pace finished his 12hour race much, much earlier but stuck around all evening changing his travel plans in order to stay. Tony had a rough day and had to call his race at the 50mile mark but after some sleep he came out and relentlessly paced people to their 100mile finishes, and in true endorphin dude style celebrated everyone of our finishes. Giovanni who had shortly before finished his own 100mi race paced me on the final mile and we celebrated together. Elizabeth McKay was there to the end cheering loudly for me. Ryan Launder had come out just to cheer and crew at this race. Colleen was there to adding her peppy cheerful spirit and we felt a connection with pretty much me being in the place she was last year. It really was a big party at the finish.



Diana had stayed as long as she possibly could but unfortunately had to leave shortly before I finished, I know she tried to stay and was upset to miss the finish. She was so encouraging all day and evening I really appreciated her help and support, and I felt her there in spirit as I finished. Also of note are Loren and Elisa, Loren I met at quicksilver 50 2 short weeks ago and despite our shorter friendship he was so encouraging all throughout the day, he had been registered but due to complications couldn't "race". He did complete a marathon in flipflops which is stunning, and relentlessly crewed for Elisa and everyone else. As I'd come in the barn either Loren or Ryan would be there "what do you need what can I get you?" and Loren's antacid really saved me. They had a flight to Europe for a marathon out there and had to leave shortly before my finish but again I felt them there in spirit as I finished.



Ed placed 4th overall in the 24hours with 108 miles and he could have done much more if he hadn't stuck with me and helped me along. I really don't think I can ever thank him enough for that sacrifice, nanny goat was Ed's first ultra and he's done a lot over 500miles over the last 5 years at this race. I know this race is a very important one to him and that he would help me at this important race so much is truly touching. Nanny Goat was my first ultra (and marathon) last year it's amazing how far I've come since then. I'm so happy that Nanny Goat was my first 100miler this race will forever have a special place in my heart. Many ultra runners seem to not understand the looping ultras (and non-runners really don't get it) they see it as a hamster wheel exercise in futility. I see it as an amazing way to bond with your fellow ultra runners, we have a very special community and I've never felt this social aspect at other ultras quite as I do at the looping ones. You see your fellow runners so many times and whether their pace is faster or slower than yours you really do get to spend time together. Also having food every 1mile is quite nice that you can bring your own food that you know works for you GI wise and not be dependent just on aid station food is a really awesome thing. Vegan donuts rocked my world at this ultra and I think that will be come an ultra-standard for me ☺.



Ryan my ever-accommodating patient husband was my perfect crew and I can't thank him enough for all his hard work. He crewed for me checking in frequently but not smothering me with his helpfulness, and while doing that he crewed for the entire race spending most of the day cooking food for all the runners. He drove our little group down and drove us all the way home on top of crewing for most of the day only getting a bit of a nap in when I insisted. Really what he does to support me in these crazy adventures never ceases to amaze me. I've changed from the lazy watch TV and hang out on the computer all day girl that he married, and he has supported me every inch of the way (interesting face 100 miles is 6,336,000 inches, wow!) THANK YOU so so much hun <3


Sorry if I rambled I very rarely write race reports plus 100miles over 27hours and 52minutes is a very long ways and makes for a very long story! There were many people that were very important in helping me in this accomplishment and my gratitude goes out to them.


And if you are wondering about that tattoo that said I'd get in the middle of the race?
Current Mood:

accomplished
Here is a pie chart of my race distances for the year:
19 5ks
6 10ks
12 half marathons
3 full marathons
3 ultra marathons
1 triathlon
A link to a list of my races and finish times
my 2012 medals on my medal holder
my 2012 medals laid out
my 2012 bibs and medals
End of the year review based on a running journal's questions:
1. How many miles did you run this year?
I ran a total of 822.18 miles this year
2. What were your highest/lowest weekly mileage results?
I did have a few 0 weeks due to injury. Week 21 I had 78.4 miles (the week of my 100k)

3. What was your best mileage month?
November I did 98 miles for the month
4. What was your longest run?
Nanny Goat 100k (actually 64mi)
5. How many races did you enter in 2012? What were your best and worst race performances?
I completed 44 races during 2012. My best race performance was when I set a new 5k pr and it was even more special because my 7year old daughter ran it with me. My worst race performance was during the color me rad 5k I was in a walking boot and it was comical in how bad it was, but I had a ton of fun!
6. Do you have a favorite/memorable run from this year?
There were so many memories from so many races it's hard to pick just one. I had so many new achievements PR's in every distance, first marathons and first ultramarathons. I made a ton of new running friends and lost a running friend.
7. What was the craziest weather or other type of adverse conditions you endured on a run in 2012?
California International Marathon was a monsoon, it poured on us. I wore water wings (pool floaties) and ran the whole race with them, despite the foul weather I scored a marathon PR and had quite a few laughs along the way. For me foul weather tends to make great stories afterwards!
8. What were your goals for 2012? Did you achieve them?
My one goal at the beginning of 2012 was to run a marathon, and looking back on 2012 I ran 3 marathons, 2 50k's and a 100k. I'd say I accomplished that goal!

9. What are your goals for 2013?
My main goal is to work on speed, I'm slow and I'd like to get faster so I hope to have some good PR's in the future.
10. Do you have a favorite running-related quote you would like to share?
In 2012 I ran 44 races! With a total of 489.91 miles. It was a lot of hard work but well worth the reward I'm more happy in my body than I have been in a long time, I feel confident and accomplished. I ran my first ultramarathons and marathons this year. It's been quite a year I've made so many new friends through running and it has changed my life in such a positive way. Thank you to everyone who's been apart of my running journey this year.
I didn't recognize a single person which was very odd feeling for me at the race. I did meet a woman headed to the start line on crutches with a bib and I told her she made me feel totally sane running with a cast :) she's a regular coastal runner and was at crystal springs (the shirt I was wearing) so after I finished I hung out ate more than my share of oranges, and then cheered her into the finish. It was a lot of fun. At packet pick up the gal said over 1,500 were registered :) I got 11th in my age group not sure out of how many but my group seems smallish because most were teenagers and their parents hehe. can't wait for results to be posted and find out what I really did overall.
this morning I did my alumni high school's fundraiser run The Big Bear Run. I ran the 5k in 34:46, which is a new pr for me, but not entirely happy with it. I had wanted to do sub 30min, my PR is really slow as I always walk/run 5k's with my little kiddos (they get mad if I do a 5k without them!). It was pretty warm out there and I discovered that apparently my forearm swells when I run because the cast started getting tight on my forearm. I took a couple walk breaks. I got several compliments on being so color coordinated even with my cast. It was a fun morning even though I didn't hit my time goal, maybe another time when I don't have the cast.
My garmin has my moving time at 3:44, I did stop for a long time at the 3rd aid station where the helicopter was landing as my mom was sitting at that station looking pretty beat up. She's faster than me and I usually never see her till the end, but apparently she got dizzy and so sat there for a bit. She in no way wanted to drop though and after a bit we got on our way, my new friend who was with me is a RN and I'm about to graduate as an RN so we figured we'd keep an eye on her pulse and stuff if we needed to but my mom, when she sensed the downhills, took off and then I never saw her till the finish. Though it turns out she only beat me by 3 mins! If I hadn't stopped for so long at the aid station I would have beat my mom for the first time in my life! But that would have been no way to do it, I hope to beat her some day fair and square! Also my garmin recorded the course as 13.95 miles, so it was a bit long I think some one mentioned that it was long afterwards but I was very confused when I hit 13.1 and knew I wasn't that close to the finish yet as I had numerous streams left to cross. My garmin data:
http://connect.garmin.com/activity/170638621
about to plow into one of the creek crossings:
with my mom at aid station 3:
so happy to see that arch and run under it:
chillin with hoover!
more pics in the my fb album:
https://www.facebook.com/media/set/?set=a.10150759181277867.436486.535522866&type=1&l=2bbc119389
Wow, I really don't know what to say about yesterday's race. I participated in Brazen Racing's Mt Diablo half marathon. Temps there climbed up to 95 and the majority of it (about 12 miles) were completely exposed climbing mountains with 2700+ feet of elevation gain. I had my worst ever half marathon time (by a lot!) on 4/21 I did a 4:21 half marathon. I don't do well in heat. I did finish with 11 people behind me, so at least I wasn't last and only a couple 50k's (who had a 1hr head start) beat me to the finish line. I drank 3L of fluids through out the race, so glad I brought my pack and didn't rely on handhelds, and did more salt than I've ever done and still I had salt issues through out the rest of the day. I did have a wonderful time though, the other "runners" (really not much running being done, even the leaders were reduced to walking some of the climbs) were very talkative and we helped each other pass the time and made casual conversation, I've made a new friend who I spent many miles chatting away with. The other thing- for such a hot hot hot race I've never had so much wet! there were a good 8 stream crossings in the first 3 or so miles and then again on our way back. They were very nice for cooling off in towards the end. It was a very interesting challenging race, I'm glad I went and completed it. Quite an adventure! Hopefully next year will have better weather, last year it was a monsoon for this race where they were pulling runners for hypothermia and this year they had runners with heat exhaustion. When I got the 3rd aid station there was a mediflight landing for a down runner there. So I'm glad to have survived my date with the devil and managed to have some fun so I'm not stressing on the time at all, another day I'll work on getting faster.
I got up this morning and got a premier parking spot, picked up my bib and hung out in the warm car for a bit. Saw a buddy of mine take off for the 10mi race a half an hour before mine, then hung out with another friend till our 10k start time. I'm used to being in the very back of the pack at trail races, I'm not fast never have been and am ok with my back of the pack station, so I line up accordingly. But that seemed to be a bit of a mistake, took a few minutes of crawling to get to the start line then it was a slow jog and we hit a hill quickly where the pace slowed down considerably. I tried to weave a bit but it was really tough with it being so crowded with slow runners. After a bit it sped up a little but still was very hard to pass any one as people were running with their friends and making large obstacles.
I decided to just be happy with the slow run pace and go along and not fight it, and turns out that I can run that pace for a lot longer than my "run" pace, and I ended up going a lot faster overall because I slow ran almost the entire race. I've never ran an entire 5k, I always get winded achy and tired and take walk breaks. So this was really cool. I did pick off some of the super slow runners though so it was fun passing some people. Also with crossing the golden gate bridge for 50% of the race we were stuck on the pedestrian sides and so 3 people side by side took up the entire running area. Also seems road runners don't know how to run down stairs as there was a complete standstill at the couple stair groups.
the last mile was very hard I wanted to stop and walk it so bad, but I'd come so far with my jog and I wasn't really in any pain just tired so I pushed through it and kept moving those feet and got it done! (besides it finished on crissy field which is where I did my 6hr endurance run on new years so very very very familiar ground as I did 21 laps there recently!) When I finally got to hit stop on my gps my personal clocked chip time is 1:08:58!!! I know most of you run much much faster than this but it is the first time I've actually ran (jogged) almost the entire race and it is a 21min PR from my best 10k time!! I'm so happy!! now I gotta get faster so I can do sub 1hr 10k hehehe.
garmin splits mile 1- 12:25 mile 2- 10:58 mile 3-11:34 mile 4- 11:01 mile 5- 9:28 mile 6- 10:28 .31 mile- 3:03 (9:47pace)
http://connect.garmin.com/activity/168472478
official time: 1:08:55 race place 1067/1667 gender place 622/1086 age group: 198/303
the home stretch just .2 more miles to go!! I was tired and wanted to stop but I was almost done (and I couldn't let that guy behind me pass me lol)
in the finish chute after seeing my time whoohoo!
ok so I haven't done a 10k in quite a while and I have been doing a few half marathons and walking 5ks with the kids so I wasn't sure what to expect of this distance now. A while ago there was groupon for like 60% off this race and it runs across the golden gate bridge I figured it'd be a good training run for SF 1/2 marathon as the course is similar and would give me a feel for that so I signed up on a whim and then promptly forgot about it until friday when I got a packet pick up email. whoops. thankfully I hadn't made other plans for this sunday so it was all on.
The medal very appropriately shows a creature from the black lagoon with a bib that says "never say die". I was so amped to do the half marathon here but the kids wanted to do it so bad that I reluctantly promised them we'd do the 5k, I think the half here would have killed me in these conditions with it's elevation, the hills were just so tough to climb as they were so so slippery.
Kids did pretty well the first mile, slowing down when it started raining 12:43, 2nd mile 18:05, then the third mile was miserable at 28:43.
Kids and I set out for the Lagoon Valley 5k this morning. Start the race, a bit chilly but no rain some mud from the previous night's rain. Fast forward 10mins- WOOSH it starts downpouring. The trails became soooo slick the hills were insane to try climbing I remember looking down at my garmin and seeing we were doing a 36min mile pace and just kinda rolled my eyes. It was very single track and very slippery there was no way to pass the people in front of us that were going slow so the kids and I just plodded along. By mile 2 the kids wanted to be home quite badly, and got many agreements from the runners (guess we were walkers at this point, ah well) around us. Finally we crossed the finish line. I'd have to consult my documents but I'm positive this was our worst 5k time ever at 1:06. The dead last finisher completed it in 2hours and 30mins! Both kids got first place age group medals :)
my mile splits were: 1- 10:32, 2-15:09, 3-15:35
I have a half next weekend and I'm just not sure what to do. It's a very mild trail half so I figure I can walk it if I want to but damn I want to break 3 hours for a half!! (I know there's a lot of fast people here but I'm just not)
After driving all the way home from SF (like a 45min drive) I'd stiffened up and cooled off a lot and I figured I was in my running clothes anyways so I went for a run around my neighborhood (I just moved and I've been resting so it's a totally new experience) One block ended up being a 1.5mile loop which I ran in 16:58 for a 11:36 pace, then I rolled out my IT bands :)
oh and what would a race report of mine be with out a photo?? Me and Tony (aka Endorphin Dude) post race, my buddy that I walked the last two miles with.
image title
After 2 weeks of rest, this morning I ran the Waterfront 5k in San Francisco (omg this city is abuzz with 49ers craze). I started out ok but by mile one the IT band issue was really flaring up in my right leg, which is weird because it's been KILLING me in my left leg and while the right IT band wasn't happy it wasn't complaining like the left, but today the left was fine while the right one was PO'd. Maybe I've been working on foam rolling and all the left side with out doing the right side as much? at mile 1 I caught up with a friend who was having a head cold and wasn't feeling the running thing either so the two of us walked the remaining 2 miles and had coffee talk, it was an enjoyable stroll.
Today I completed my 7th half marathon since the end of August. Today it was really hard for me to get going, it was the first race I contemplated DNSing. I just didn't want to get out of bed, I accidentally plugged in the address for packet pick up and went to the wrong place, finally got to the race with a good 7mins to spare! phew.
I'm moving and I haven't trained at all or done much of anything active since Big Sur half 4 weeks ago and felt totally under-prepared for this race. I knew there was a marathon going on though so I didn't worry too much about time I had as much time as I wanted. My mom did the 5miler and my dad did the marathon. The marathon and half started at the same time and the course is a half loop that the marathoners run twice. My dad is faster than me, usually by a lot. But he was tired today and so for the first couple miles we leapfrogged kinda cool. Then he pulled ahead but on several out and back sections I'd see him as he was only like 5-10 mins ahead of me (but he had to do a 2nd loop mwahahaha!)
I was tired that definitely showed my exhaustion from moving and everything, but I did 2 1/2 gu's through out the course and a FRS energy drink right before the race, so I fueled up way more than I usually do and managed to get through it. I set my watch to intervals 60/90 run/walk. First time I've ever used intervals through a race. I finished in 3:07:21 which is only 4 minutes slower than my PR! so I'm pretty happy with that.
My mom rocked her 5 miler and got 3rd in her age group! She is getting super speedy! Go momma!!!
I need to figure out winter clothing. It was 33 degrees when we started at 8am, and I was frozen!! I know many of you non Californians probably think me a whimp but buuur it was cold to me. And then it warmed up pretty fast and I had on way to many layers so I ended up ditching my sweaters for most of the race at an aid station I knew I'd hit again, but I hate running with stuff on my waist and I need to figure out this layers thing.... I wore sweatpants over my running pants that I ditched in my sweat check bag right before we started maybe I need to ditch more layers even though I feel cold with out them. *sigh* I can't imagine what you people do in snow races, or does it not really warm up too much to require shedding layers?
ok I've rambled on a long time! here's a photo my dad took of me as he started out on his 2nd lap as I was approaching the finish probably at about mile 12.5 or so.
Current Mood:

relaxed
Sunday I went out to the Marina Green 5k with DSE. Crissy field in San Francisco is such a smooth happy place to run! I didn't bother looking at the course beforehand and just took off with the crowd. I don't run if you haven't gotten that yet I walk. But I was feeling good after chilling Saturday and for once the kids weren't with me as there was a kids run later in the day so I ran. I listened to two songs and then I see people turning around. I couldn't believe that I was at the turn around already, I was thinking this is so awesome after a half a 5k really is no big deal. then a bit after the turn around I saw the mile 1 marker. I was so bummed, I ran the first mile but then I was just exhausted I thought I was more than half way and I was only 1/3 of the way. It was a bummer then I lost my oomph. I'd been up with my son almost the whole night with his disease acting up so I was running on low fuel and so after that I just slowly walked the rest. When I came across the finish line it was 42:48, 30 seconds slower than my PR! ugh I should have just kept going, oh well hopefully I'll make a new pr on the 5k distance soon though!
now we move on to Monday. Labor day Monday. I signed up to do the Zombie Runner Vasona Lake 5 miler. A friend "Ultra Woof" signed up to do the half marathon, the courses were the same for the first 5 miles, an out and back then the remainder of the half marathon went out and back from the finish line the opposite direction. We all took off at the same time so Woof and I hung out for the first 5 miles and had a blast, she didn't want to go on and do the half when I finished so she was going to quit at 5 miles, and I couldn't have that, so at the finish line I waved to the race director and told him I was doing the half marathon and off we went. Very unexpectedly I found my self doing my second half marathon a mere 9 days after my first. It was a very flat course for like 60% the rest was a mountain. We walked almost all of it and chatted and had fun, came in at 3hours and 56 mins! lol it was a blast. And now I'm a half fanatic! weee. I wore one pink and one purple calf sleeve in honor of Ed (see saturday) since he wears mis matched calf sleeves as part of his Jester outfit, and he finished his 6 day run just as we were starting our race.
ok that's a ton of chatter so here's a picture! (did I mention we had a lot of fun out on the course as demonstrated by this pic)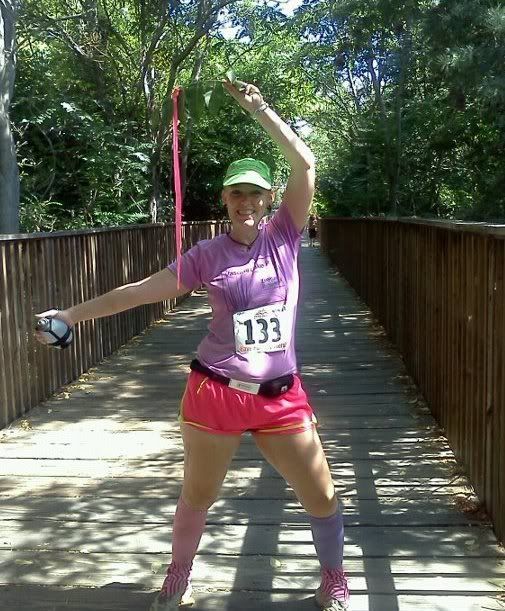 Saturday I actually had a weekend day with no racing activities!! A friend Ed, Mad Hatter Fancy Pants, was running the silverton 6 day challenge and they had a web cam set up so I chilled and watched "Ed TV" and watched Ed lap constantly. He runs in a jester suit so it was extremely entertain. The guy is amazing!
at 6:30am I arrived at my parents house and let the foot doctor, aka notthatlucas (aka daddy), tape my foot to help prevent blisters like last weekend.
Dad even had coordinating pink Kinesio Tex tape!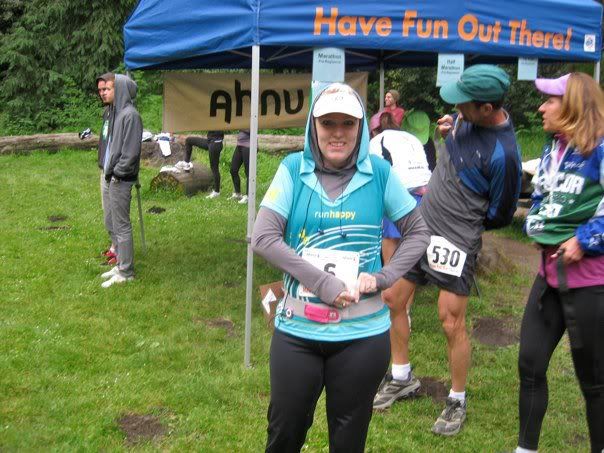 getting bibed up, I was bib
#6
, my first single digit bib. I was really tickled by the single digit for some odd reason.
Right off the bat we get to head up some hills. A lot of the hills were root and rock infested and careful footing was required. It was a challenge but it kept it interesting, and gave something to think about other than oh my god does this hill go on forever?!?!
we did have to cross Skyline road once headed out and once headed back, but thankfully I'm good at frogger and avoided the cars.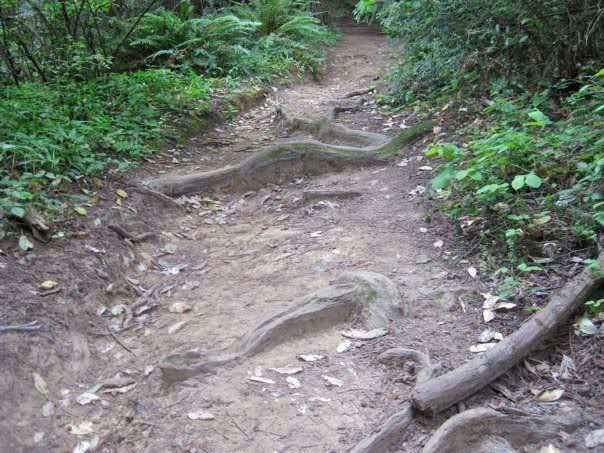 another example of the fabulous trails.
prior to starting the race the director warned us runners of a particularly nasty section of trail named "cinderella" which should really be re-named cinderella's nasty step mother, but that just doesn't flow. As I was out there I knew I was getting close to being done and I was on a really nasty section of downhill crazy rocky trail, but I knew cinderella was coming up so I was waiting for the other shoe to drop, after a bit the trail smoothed out and there was the finish, I'd never seen the trail sign, and I would have sworn it didn't exist as I'd been looking for it to warn me of the rough part, but I made it through with out any scrapes and as my father's picture shows there is indeed a post. It was really crazy to see the half marathon and marathoners running full fledged down this particular part of the course, I'm amazed at their grace and skill on such rough terrain!
Running for the camera into the finish. I did the 10k in 1:52:28, was 14/24 in my age group and 80/100 overall.
my pace per mile breakdown according to my phone's gps is the following:
mile 1- 16.11
mile 2- 14.26
mile 3- 16:06
mile 4- 15:10
mile 5- 25:30 (can we say go up the mountain?)
mile 6- 14:40
the 10k had an elevation gain of 1,090'
I really thought it would be all up and down, but it did level out in several places that helped make it more enjoyable than just climbing. Really it was a gorgeous course and I loved it all!
from left to right, Kerry (who I played leapfrog with on the course but ended up beating by 4mins, she'll get me next time), Anne, Erin (who placed 2nd in her age group, and was celebrating her birthday), ever chipper Marie (also 2nd in her age group), and me.
it's great to have friends at races, the camaraderie is fabulous.
Marie being fashionably warm, and showing what's left of her foot long sub.
Dad finishing the first half of the marathon posed for a picture, had some soup, changed his soaked shirt and took off for another round.
meanwhile we saw this odd sight, not quite sure what was going on, but it certainly looks interesting.
I also got to hang out for a bit with Tony, endorphine dude, who runs his marathons with a cape and endless style. He is attempting to do 52 marathons this year, but had to sit out today due to an injury. He has a fabulous furry sidekick Chewbacca who also made an appearance today. if you are curious about him his blog can be found here:
http://www.endorphindude.com/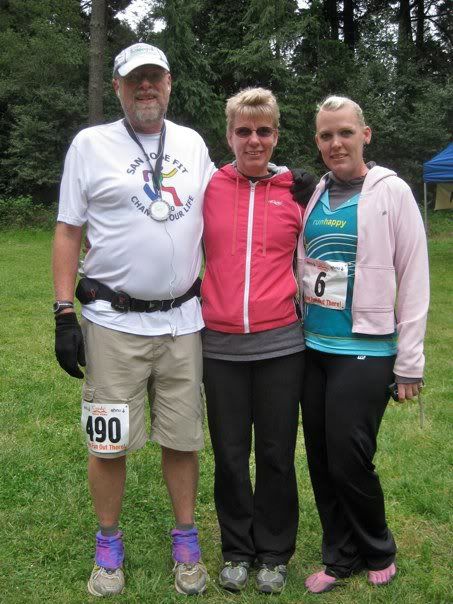 my mom who was doing the half came in around 6:02 and was very irritable. turns out she tackled an ultra half marathon adding a bonus 9 miles to her distance. Dad did his full in 7:53, but spent a lot of time using his handy map to point other racers in the right direction. Despite costal putting out lots of course marking ribbons unfortunately some vandal decided to take a majority of them down, causing the longer courses to have some issues.
Costal does not do mile markers but I had an idea because I knew aid station was 2.8miles out then you do a 1.8mile loop return to the aid station then have 1.7 miles back to the start. I was worried going into it that not having mile markers would make me uncertain and hurt my time, but I actually found it enjoyable not to stress on time and where I was as much and just enjoy the gorgeous scenic course (while not mauling myself on a rock or tree root). I had a lot of fun and really enjoyed my first race with Costal. 2nd 10k is done, next weekend I tackle Hellyer 10k with a child at my side.
after my racing 10k debut at the Mermaid run my parents coerced me into joining the Cinderella trail run this Saturday. I was sore for about 4 days after the mermaid run and was seriously doubting my sanity for signing up for a hilly 10k as my 2nd official 10k. I knew I wouldn't be making a PR but I figured a lot of people I knew were going and to just have fun out there.