Today was Palo Alto GP series 2nd race of the year. The Running of the Bulls. Their was a 5k, and kids races. I had planned on doing the 5k, but hadn't signed up. I was still considering signing up day of but I'm fairly sore from yesterday's 10k, so I'm glad I hadn't signed up. I had signed the kids up for the running of the calves (the kids races) instead of having one kids race they have two races for each grade level, one for girls and one for boys. Riley participated in the 100meter prek dash, and Darci did the 200meter first grade dash.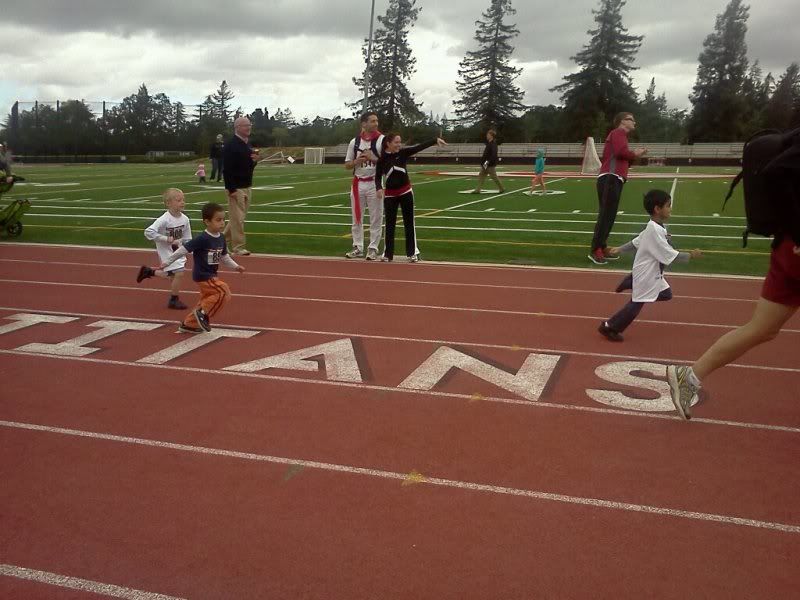 Riley running, he was bib
#808
and got 3rd in his race, he was very close to the 2nd place kid.
for 3rd place he got a medal and to pick out a toy which he got this fishing set. He promptly handed me the medal not caring about it in favor of the toy.
After the kinders it was the 1st grader's turn. Darci on the left and Meera, a little girl that shares Darci's birthday in her class that came out to the race. Meera got 3rd place in their race, and Darci came in last. Darci's got the stamina for the longer races, but just doesn't get the go fast it's short mentality and came in last for her race.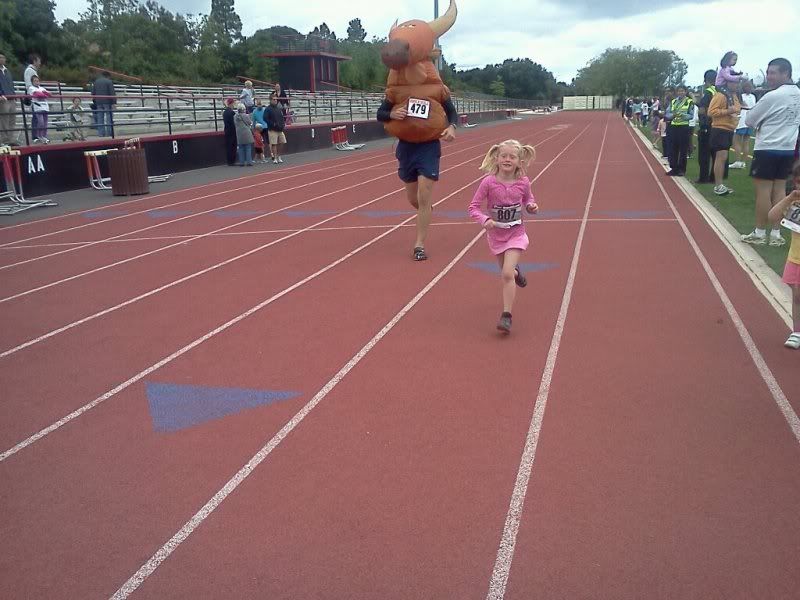 She did beat the bull though! and she did run the entire 200meters. She was very disappointed that she didn't get a medal and toy, like her brother and friend. The race director felt bad for her as she was obviously upset and gave her a medal even though she didn't officially place. She was happy to get the medal but felt bad that she hadn't "earned" it and so refused to wear it, but clutched it to her chest instead.
it was a fun event, but I think I need to start having the kids practice dashes along the drive way so Darci can practice going fast.
First of all HAPPY MOTHERS DAY!!!!
The festivities kicked off Friday night at Sports Basement, where we picked up our stuff.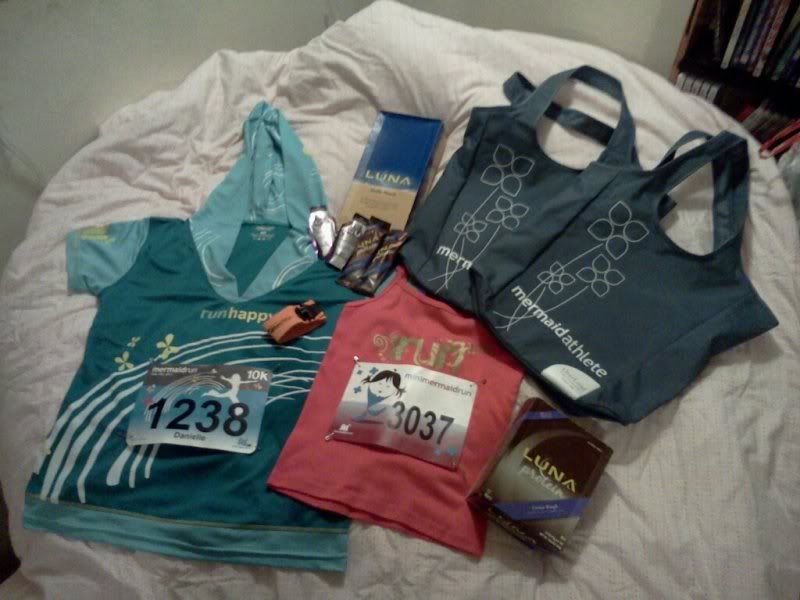 this is mine and Darci's goodies. I bought her a tank top from the $5 clearance bin, the mini mermaid didn't come with a shirt.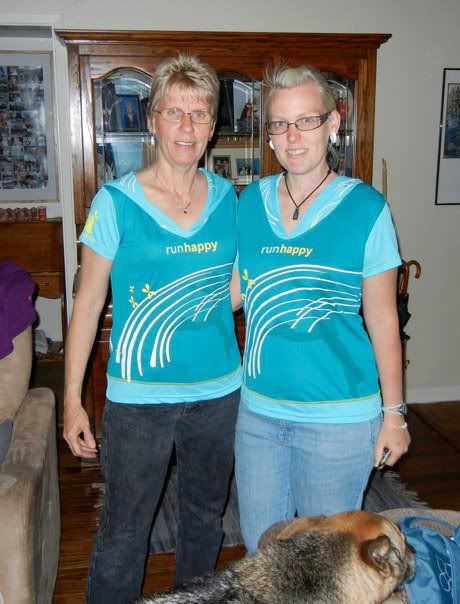 Mom and I love our new tech shirts (they even have hoods!)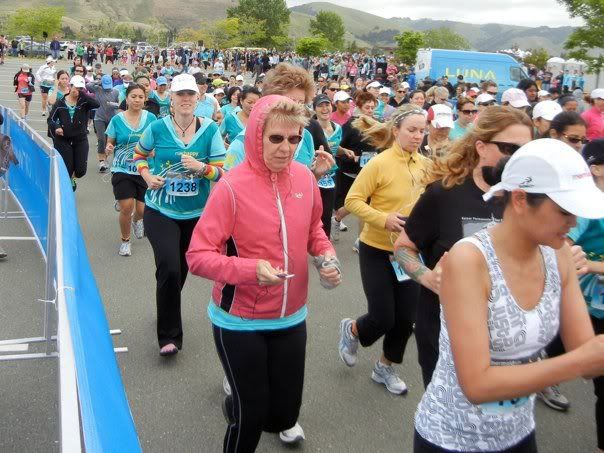 the 10k was supposed to start at 8:30am but we didn't actually get going until 8:50am, more time for pre-race socialization!
here's the breakdown of my milage according to my phone app. the route was 6.52miles according to my gps, I forgot to turn it off right after the race so I had wandered for a couple minutes with it still running.
mile 1 - 11:11 when I saw the mile 1 marker I was shocked I couldn't believe I'd done a mile already, but then I slowed down so the next markers didn't come as fast.
mile 2 - 13.53 it was weird to pass the 5k turn around and keep going. There was a water cooler here but not much of an aid station
mile 3 - 14.35 an aid station with electrolyte drink and water and then later on the turnaround yippie!
mile 4 - 14:06 hit the same aid station again after having turned around
mile 5 - 14:12 at probably about 5.5miles there was an aid station with gu and water
mile 6 - 14:22 very glad to see this mile marker! just a short trot after this sign!
I did the course in 1:29:27 just under my goal of 1.5 hours, so I'm happy and I did walk 95% of the course. my first official 10k timed race.
I was overall
#295
/335 and
#47
/51 in my age group.
all in all no bathrooms on course that I saw, nice mile markers every mile, no course ribbons but lots of orange cones at every possible wrong turn plus there were lots of runners so it was pretty impossible to get lost, and 4 places to get water on the 10k.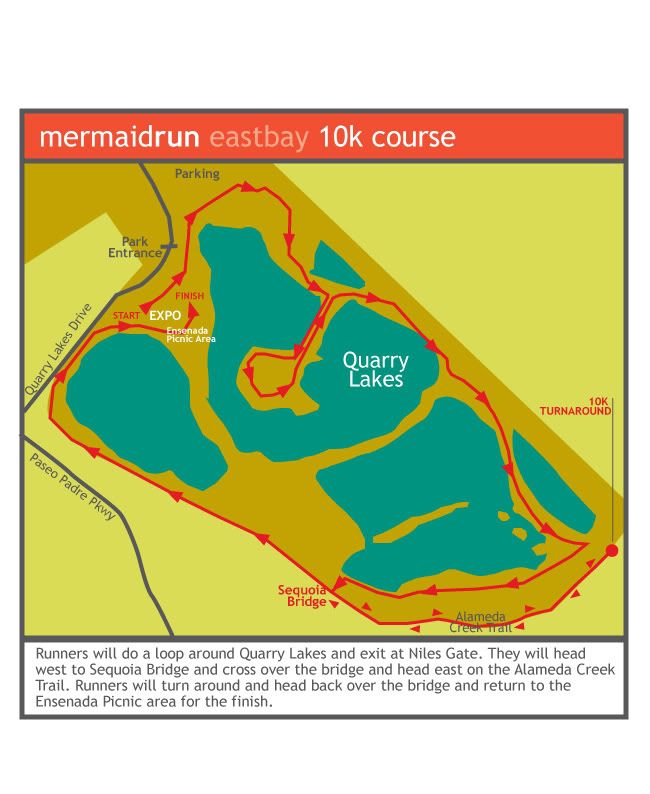 the course for the 10k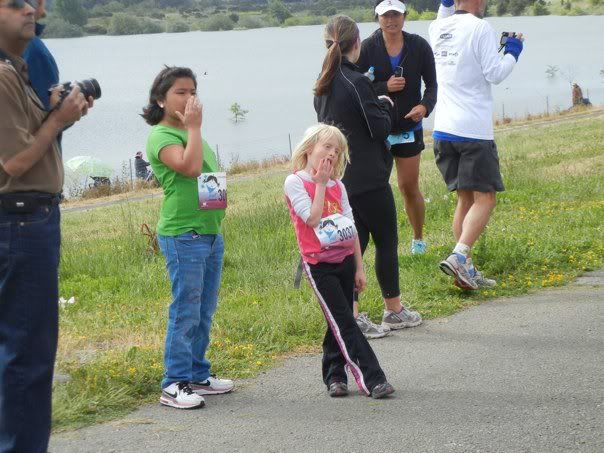 Darci and Salma were anxious for their race to get started, my mom who did the course in 1:12 (go mom!) made it back before they took off.
Darci started strong but then pitered out. She did the 1.5mile in about 32minutes, they didn't have timing chips so this is grandpa's approximation.
I finished the 10k while the girls were out on their run, and was waiting at the finish to cheer my daughter along.
Darci coming across the finish line with another mini mermaid.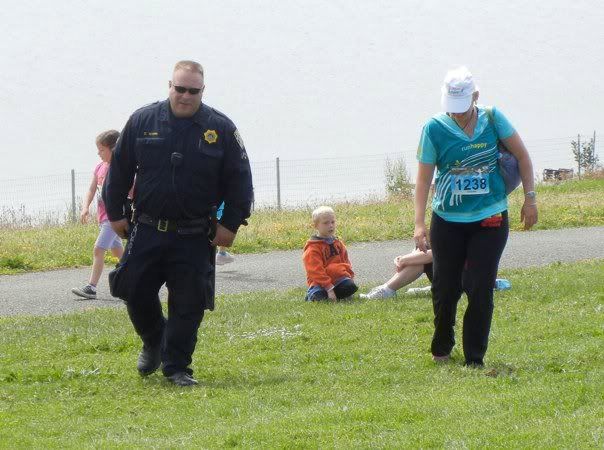 yes this photo is alarming. There was a long line for the post race food, and Riley is not great at waiting. He wandered off to a group of kids sitting in the grass, and I could see him from the line so I wasn't worried. But then a police officer came over and started talking to him, so I figured I should intervene lest my 4 year old got a squad ride. Apparently a woman thought he was lost and got the officer, but the officer said when he asked Riley if he knew where his mom was he pointed to the line, and I was already halfway to them. So apparently the gal that reported my son didn't bother to ask him and just assumed he was lost. But everything is ok even if my son had his first brush with the law.
the kids loved their chocolate chip pancakes!
after the kids were happy with food I wandered over to the other booths, and there was a massage booth and an injury recovery booth. I had this weird pain on the lower inside of my left knee that kinda came and went during the race, and was fairly persistent after the race was over. Apparently that's where most of your thigh muscles attach to bone, and the gal worked on it for a bit and that helped tremendously. I've never gone to the post race massage booths but that was nice! Even if I feel silly going to massage after a very slow pace race.
my finishers necklace (and my 13.1 mile good luck charm for training for my first half!) the back of the necklace says "finish strong"
a very enjoyable race day, even though I did end up with my first set of blisters. I've done 9 miles before and never gotten a blister, race day or training hikes/runs. But today right on the ball of my foot next to my big toe on each foot I got a big blister, owch. Guess it's a good thing I didn't sign up for that 5k I'd been thinking about for tomorrow.
a friend gave me this post race recovery bath recipe:
3 pints hydrogen peroxide
½ c. baking soda
½ c. sea salt
mix in essential oils
1 TBSP. ground ginger
I threw some stuff in the tub (forgot the baking soda and didn't do that much peroxide) and took a nice long soak, that helped a lot!
Today we experimented with how well Mermaids can run at Quarry Lakes in Fremont, CA. This is the same park that I did Western Pacific 5k with the family at. It is a very flat course gravel course that runs along the water. Me and my mom did the 10k today while Darci and Salma (grandma's neighbor) did the mini mermaid run which was 1.5miles.
Current Mood:

accomplished
There are some pictures in this post, but many many more will be added later as all the volunteer photographers post pictures, I don't take pictures while out on the course I rely on the camera people throughout the course.
I woke up at 5:30am. Usually I won't stir at this time but for race day I never have a problem getting going. rare for me to actually see a sunrise :)
First thing that went wrong when we left my mom's house I realized about 2 blocks away that I'd left my shuffle in my car, Dad was generous enough to turn around for me as I like my tunes as I run (or rather stumble along like this race). With music in hand we took off again for the drive out.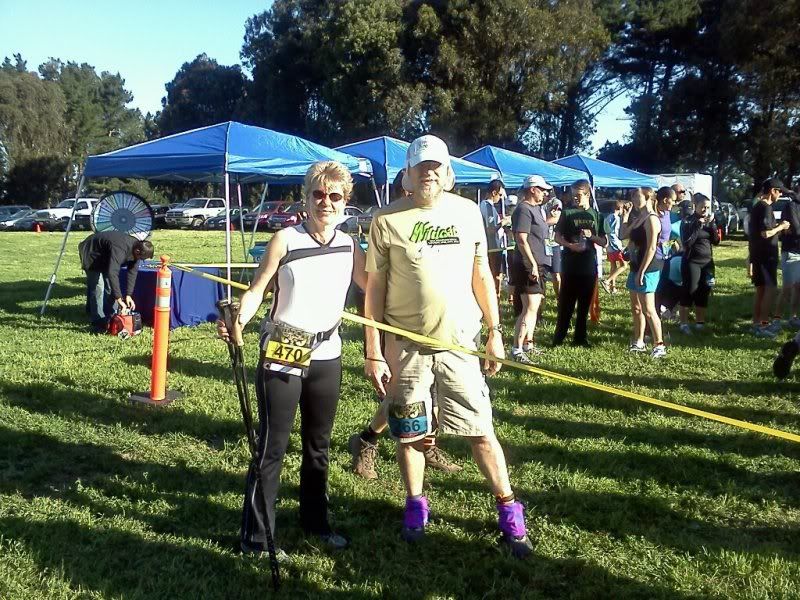 Mom and Dad before the race, chipper and ready to go. Dad did the 10k, and Mom did the 5k. They both always do at least half marathons but due to a time constraint they had to do a shorter distance today. They both did fabulous, I beat my dad in by about 30 seconds, but he did double my distance. Mom beat me by at least 15minutes if not more. Mom got silver for her age category too!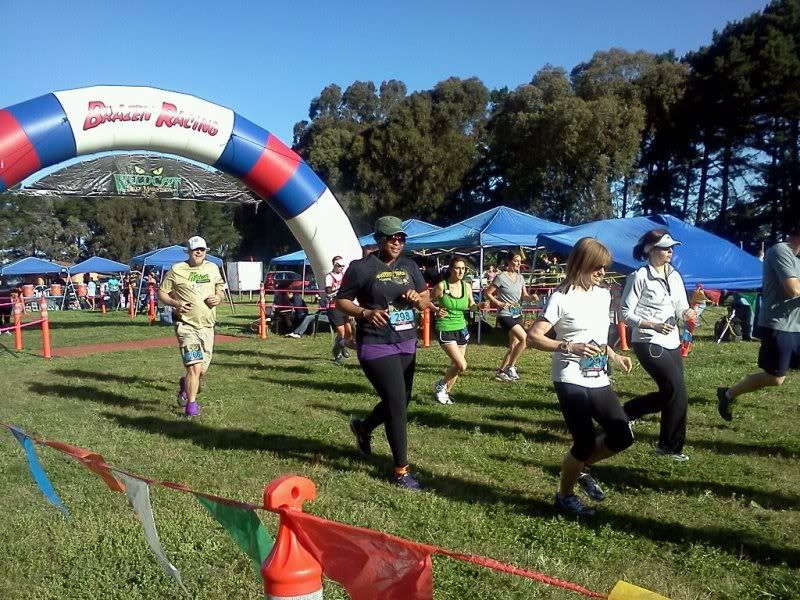 Dad taking off. He might have started in the back of the pack, but he definitely didn't stay there.
I don't have any actual pictures from during the race as stated before I just tried to put one foot in front of the other and to not stop (this was very tempting) so the rest of the pictures are at home after the fact. After the race I was feeling pretty bad and didn't think to take any pictures.
the whole first mile was uphill STEEP uphill. at about .5 mile the 10k leader went blazing past so fast I almost got whiplash. I just kept stumbling along. My asthma was making it very hard to get oxygen while moving, I had to use my inhaler a lot!
this sign was before the first mile marker, what a tease!!! it was evil!!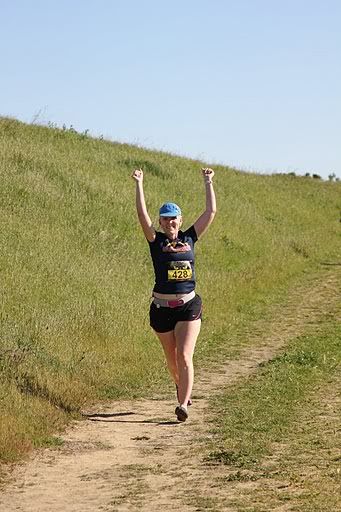 I was convinced I was going to die and that would be it for me I finally turned a corner and started heading downhill, YAY!
shortly I finally reached mile 1. then I realized it was an out and back race so I'd have to turn around and race right back up that hill, dang it!
the rest of the way down to the aid station was downhill, I saw mom headed back in good spirits and plowed on. as I was approaching the aid station 2 bad things happened. 1. my ipod died. bleh. 2. I pulled out my phone to see what my time was and realized my tracker was set on "elliptical" so I don't know what my pace was or anything. bleh. it took me 28 minutes to reach the halfway point, my worst time ever. I got a sip to drink and turned around to go back uphill. There was a cow right by the aid station mooing at me.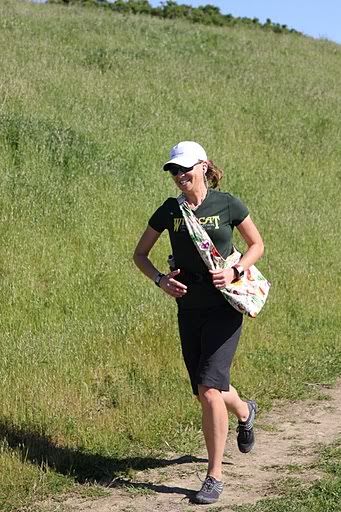 somewhere around mile 2 I saw Marie's smiling face, she was sweeping the course and was very encouraging.
on the way back up the hill I stumbled by a photographer I couldn't even pretend to run. finally I reached the top of that hill then the rest was downhill I tried to run most of it, but my lungs were still very unhappy with me. shortly after mile 2 the half marathon leader blew by me, holy cow! at this point tons and tons of 10k peeps were passing me by. one foot in front of the other. try not to step in a hole. breathe. sheesh all this stuff to do. finally I saw mile 3 and knew it was almost over.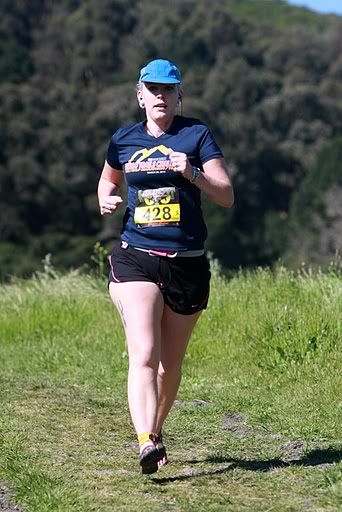 about this point my dad spotted me from up the hill and apparently thought he'd overtake me as I was going S L O W. but that finish line was close and I managed to pull in before him. seeing that arch was soooooo good.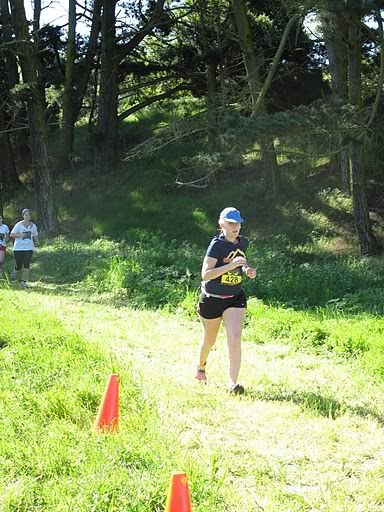 I grabbed a drink, a few chunks of watermelon said hi to a few people then headed home. This course is very hilly, very little shade along the course, but thankfully a nice breeze. all in all I survived, but not by much. I think I did it in right around an hour. I was so tempted to just lie down and roll to the finish, but I managed to go under the arch upright.
5k-
overall
#55
Diane Lucas bib
#470
2nd in age group 47:22
overall
#80
Danni Baird bib
#428
7th in age group 59:29 (barely under an hour!)
10k-
overall
#80
Allen Lucas bib
#266
5th in age group 1:29:51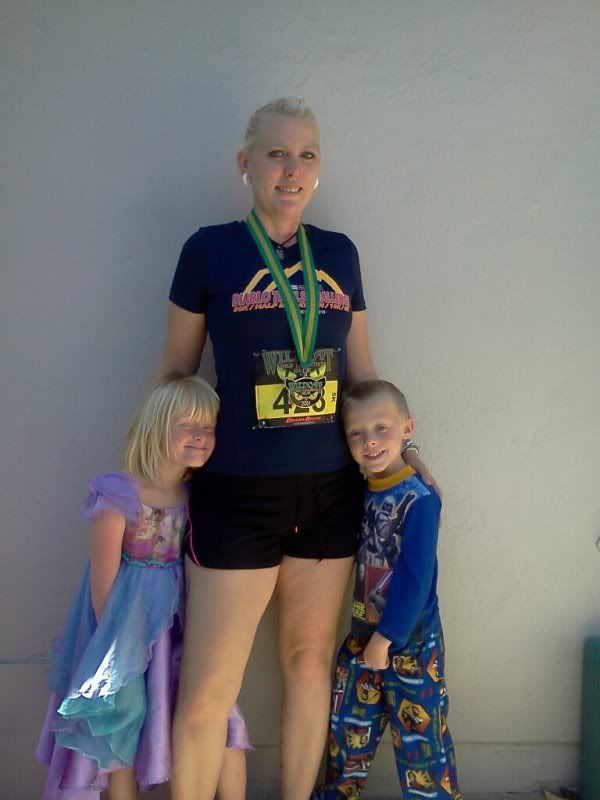 so happy to see my kids again.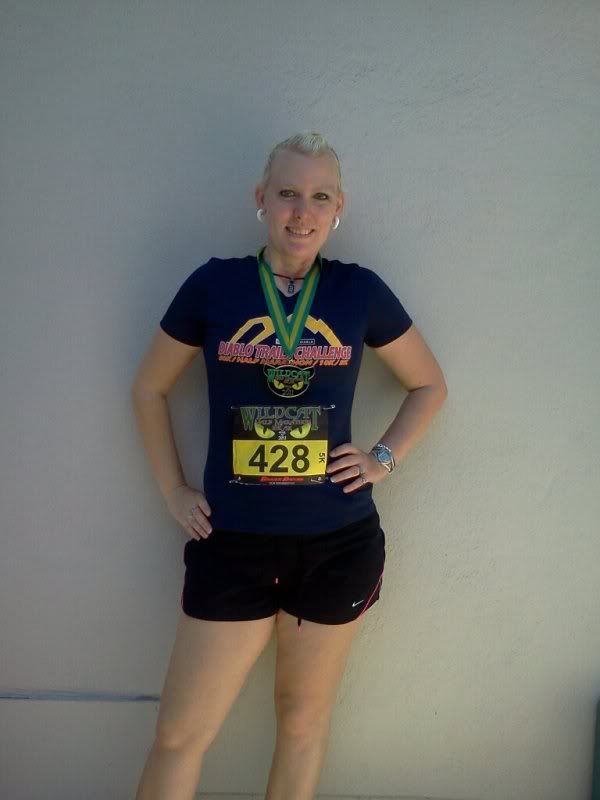 cheese!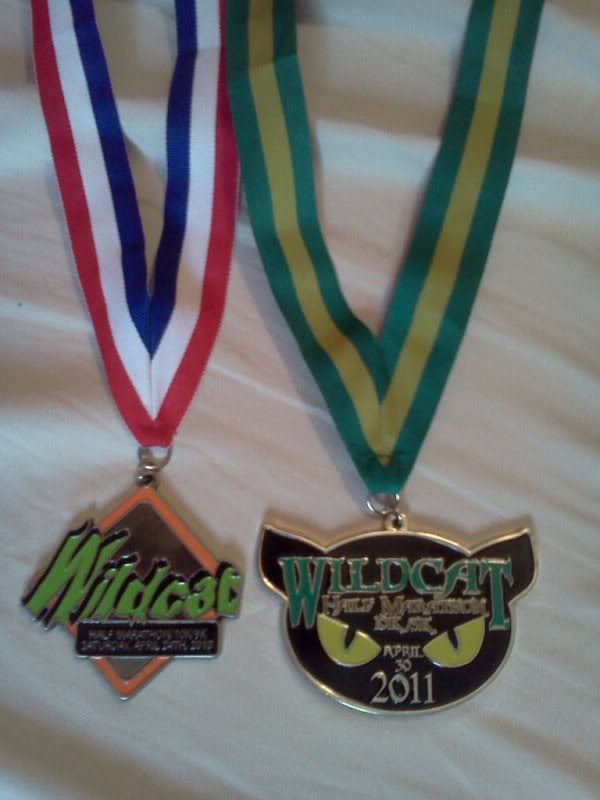 wildcat last years goodies to this years
all my bling
First off this post comes with a disclaimer, there is going to be massive amounts of whine in this post if you're crazy enough to read on then you might want a block of cheese to go with it. And my second disclaimer, even though there is much that went very wrong with this race none of it is Brazen's fault. Their part was flawless as always, tons of volunteers, I saw many camera's out on the course, the spread at the end was fabulous, there was a great tech shirt and supurb bling. Sam was smiling and cheerful even though he's off to do a very challenging 60k race tomorrow. Marie was out on the course chipper and cheerful despite my grumpiness and negativity.
Current Mood:

exhausted
we decided to split into two teams, Darci and me, and Ryan Riley & Dove.
both the kids were so excited about today's race, the weather was gorgeous, nice crisp morning air, slightly overcast but a beutious day for a race.
Darci at the start all ready to go, she was desperately trying to get me to upgrade to a 10k with her.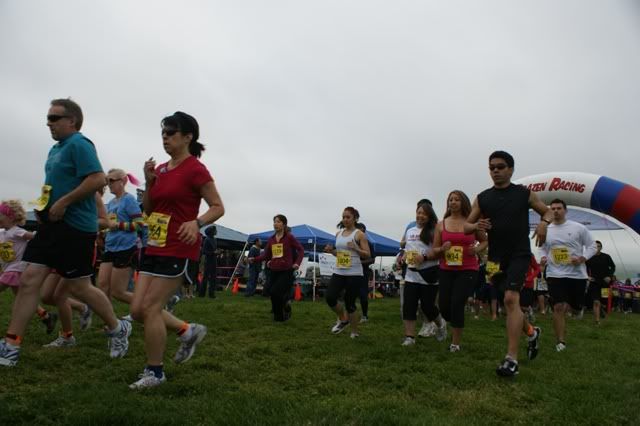 Getting started to the left in this picture in the background you can make out Darci and myself getting going.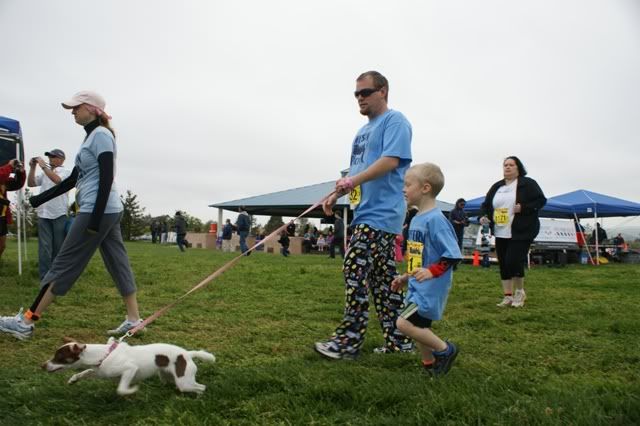 Ryan and Riley getting started, Dove is very gung ho about this race (ok there was another dog right in front of her that she either wanted to attack or play with)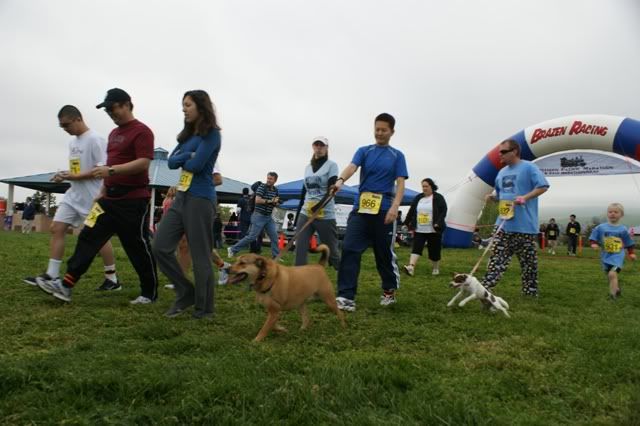 see, other dog.
out on the start of the course.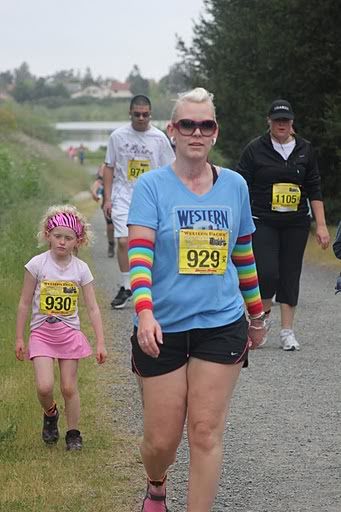 this is about a mile into the race, Darci was ready to walk at this point.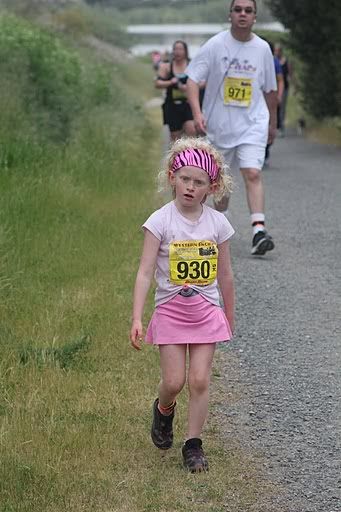 looking very pink, she refused to wear the blue race shirt.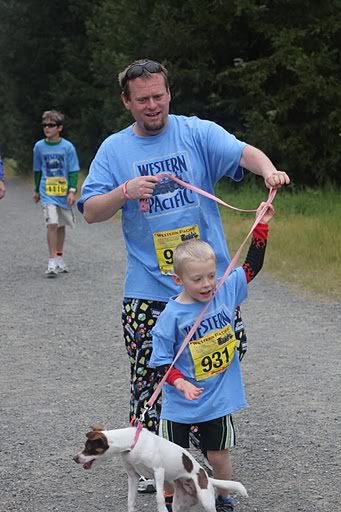 meanwhile Daddy struggled with the boy and dog, don't know how they weren't pretzeled and stuck out on the course.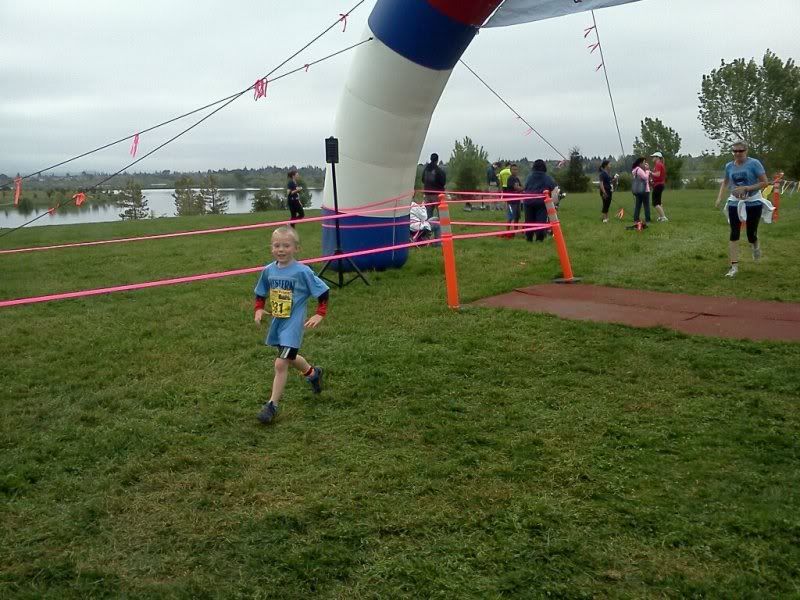 riley streaming across the finish line.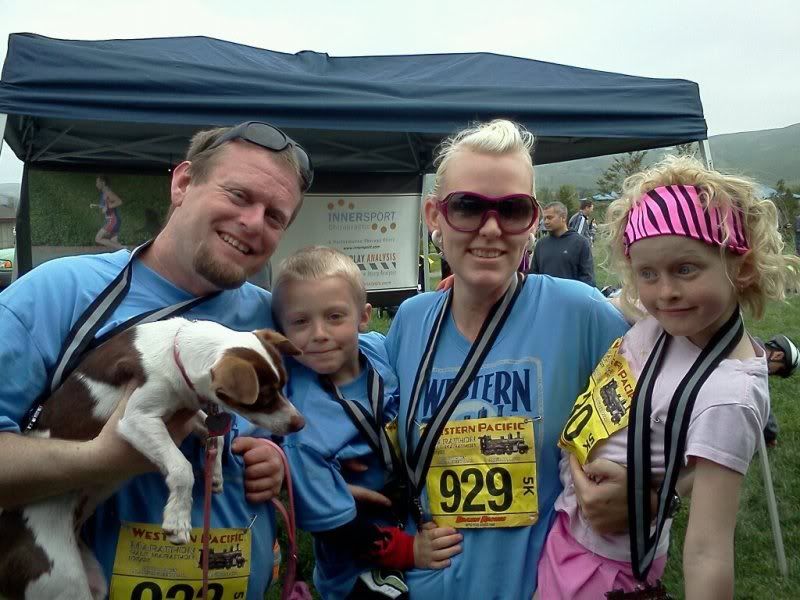 another great brazen race! there were 281 5k finishers.
Danni Baird - overall
#241
chip time 49:12
Darci Baird - overall
#247
chip time 49:58
Ryan Baird- overall
#263
chip time 53:44
Riley Baird- overall
#264
chip time 53:53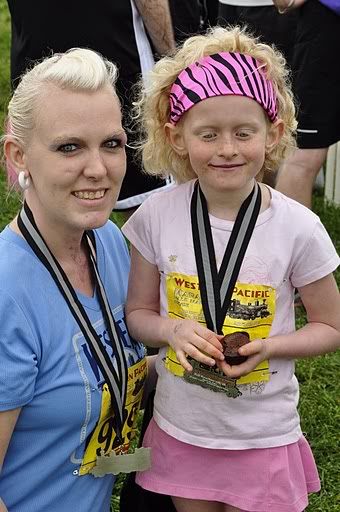 Darci and myself after the race sporting our bling.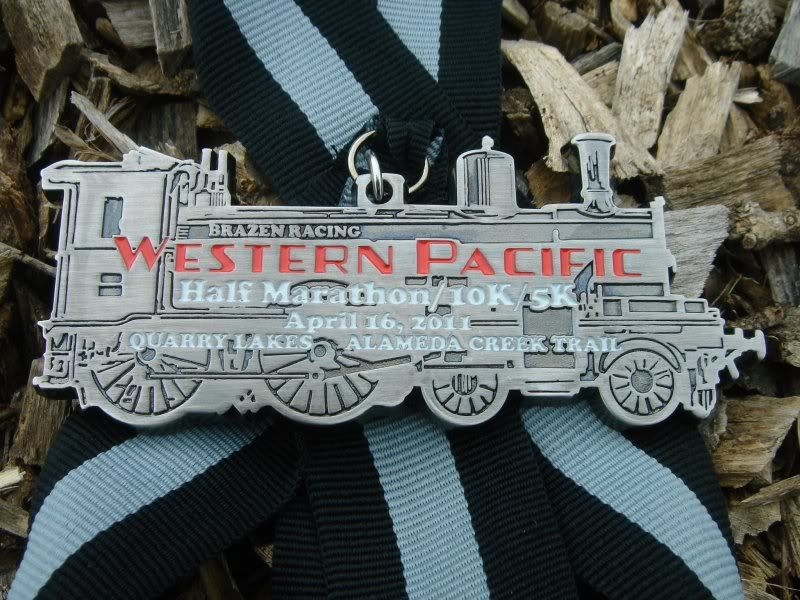 the bling
we hung around for a bit then headed out to grandpa who was manning an aid station out on the marathon course, the kids had lots and lots of leftover energy so I think we are going to do the 10k next time.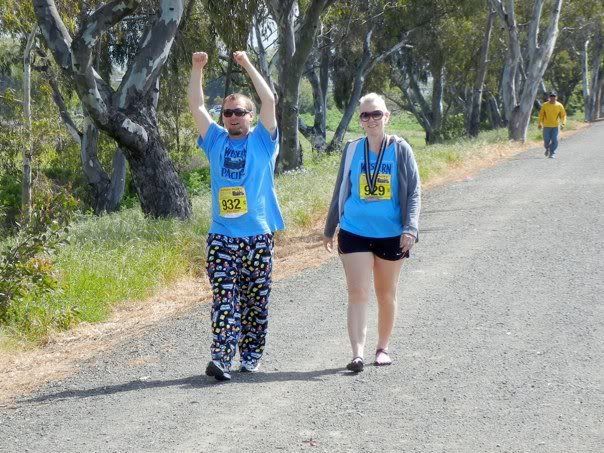 another fabulous race by Brazen, this one was actually sunny and warm, with no rain mud or hills, it was a very simple straightforward race but still lots of fun. The brazen volunteers are superb, taking tons of photos and posting them for free, and giving tons of encouragement on the way. And also the runners at brazen races seem to be much more polite and friendly than I've met at other races, Brazen is definitely my favorite racing company.
Today was Brazen Racing's Western Pacific 5k run (well they had 10k, half marathon and full marathon distances too, but our family did the 5k)
Current Mood:

accomplished
September 12, 2010 was the Drag-N-Fly race my dad and brother did the half marathon and my mom did the 10k. Aubri and I volunteered at the event and it was a great family event, gorgeous sunny day. The trail was extremely challenging to say the least which I'm sure my dad's blog with cover in detail but from my volunteer post things were quite peachy.


19:55 whoooohoooo it's massage night! #


Automatically shipped by
LoudTwitter
15:45 is going to make egg rolls in cooking class today yippie! #
17:06 just had another dizzy almost fainting spell, bleh. feeling super nauseated and headachy now. yucko. #
19:35 oh holy migrane, that explains my dizzy light headed spells I've been having. #
Automatically shipped by
LoudTwitter


12:18 almost passed out, think I was sunbathing for too long with not enough water, owchie my head is pounding now. #


Automatically shipped by
LoudTwitter


15:27 watched the overtime of the world cup.... *drop jaw* #


Automatically shipped by
LoudTwitter


12:37 had a great date night with the hubby (thanks for being so awesome and driving all the way out here for a night together!!) #


Automatically shipped by
LoudTwitter