at 6:30am I arrived at my parents house and let the foot doctor, aka notthatlucas (aka daddy), tape my foot to help prevent blisters like last weekend.
Dad even had coordinating pink Kinesio Tex tape!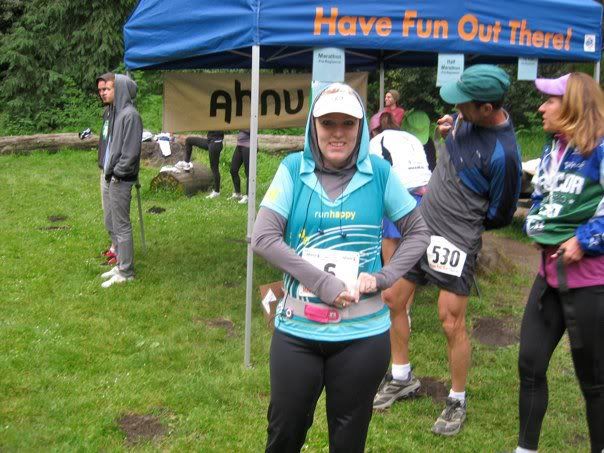 getting bibed up, I was bib
#6
, my first single digit bib. I was really tickled by the single digit for some odd reason.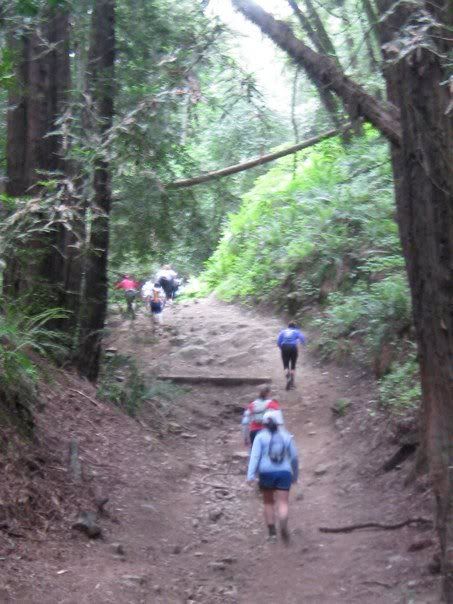 Right off the bat we get to head up some hills. A lot of the hills were root and rock infested and careful footing was required. It was a challenge but it kept it interesting, and gave something to think about other than oh my god does this hill go on forever?!?!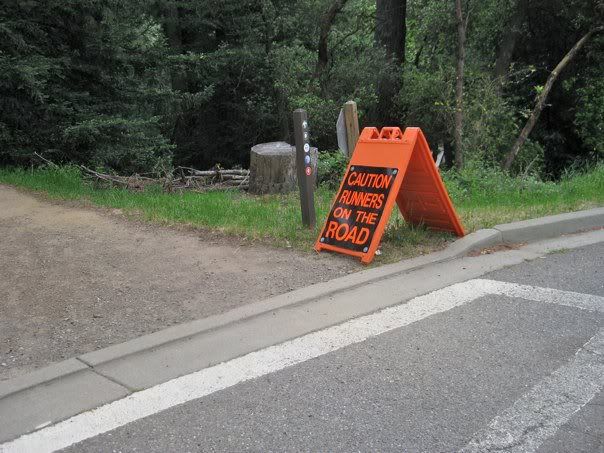 we did have to cross Skyline road once headed out and once headed back, but thankfully I'm good at frogger and avoided the cars.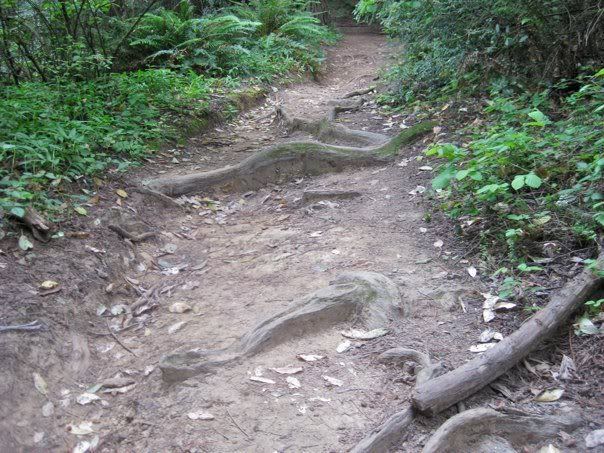 another example of the fabulous trails.
prior to starting the race the director warned us runners of a particularly nasty section of trail named "cinderella" which should really be re-named cinderella's nasty step mother, but that just doesn't flow. As I was out there I knew I was getting close to being done and I was on a really nasty section of downhill crazy rocky trail, but I knew cinderella was coming up so I was waiting for the other shoe to drop, after a bit the trail smoothed out and there was the finish, I'd never seen the trail sign, and I would have sworn it didn't exist as I'd been looking for it to warn me of the rough part, but I made it through with out any scrapes and as my father's picture shows there is indeed a post. It was really crazy to see the half marathon and marathoners running full fledged down this particular part of the course, I'm amazed at their grace and skill on such rough terrain!
Running for the camera into the finish. I did the 10k in 1:52:28, was 14/24 in my age group and 80/100 overall.
my pace per mile breakdown according to my phone's gps is the following:
mile 1- 16.11
mile 2- 14.26
mile 3- 16:06
mile 4- 15:10
mile 5- 25:30 (can we say go up the mountain?)
mile 6- 14:40
the 10k had an elevation gain of 1,090'

I really thought it would be all up and down, but it did level out in several places that helped make it more enjoyable than just climbing. Really it was a gorgeous course and I loved it all!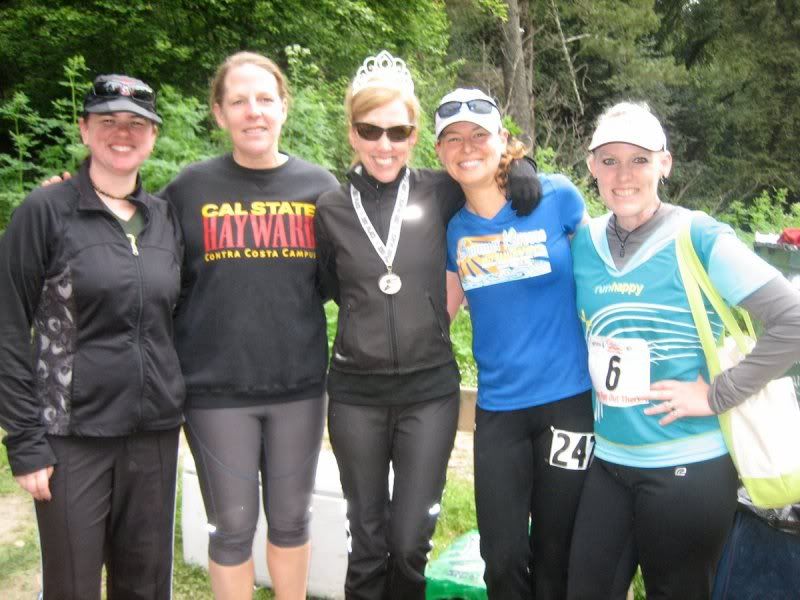 from left to right, Kerry (who I played leapfrog with on the course but ended up beating by 4mins, she'll get me next time), Anne, Erin (who placed 2nd in her age group, and was celebrating her birthday), ever chipper Marie (also 2nd in her age group), and me.
it's great to have friends at races, the camaraderie is fabulous.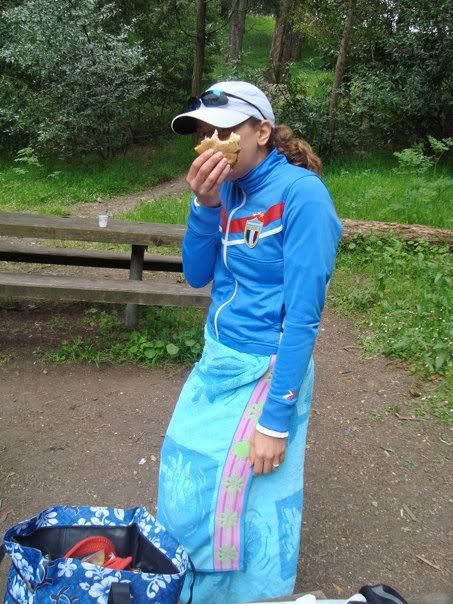 Marie being fashionably warm, and showing what's left of her foot long sub.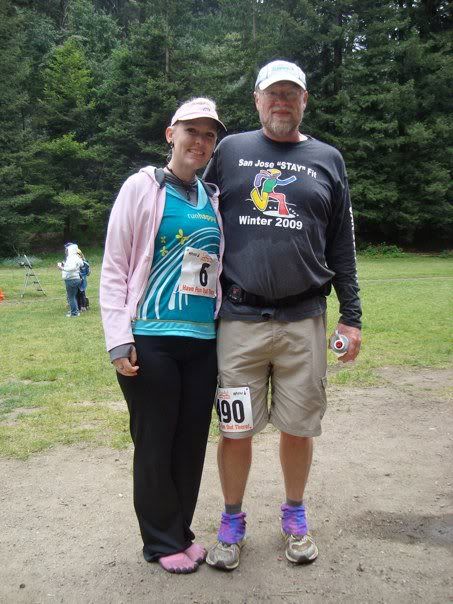 Dad finishing the first half of the marathon posed for a picture, had some soup, changed his soaked shirt and took off for another round.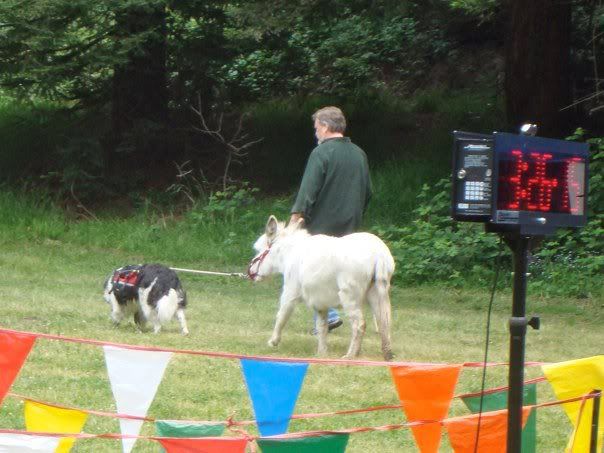 meanwhile we saw this odd sight, not quite sure what was going on, but it certainly looks interesting.
I also got to hang out for a bit with Tony, endorphine dude, who runs his marathons with a cape and endless style. He is attempting to do 52 marathons this year, but had to sit out today due to an injury. He has a fabulous furry sidekick Chewbacca who also made an appearance today. if you are curious about him his blog can be found here:
http://www.endorphindude.com/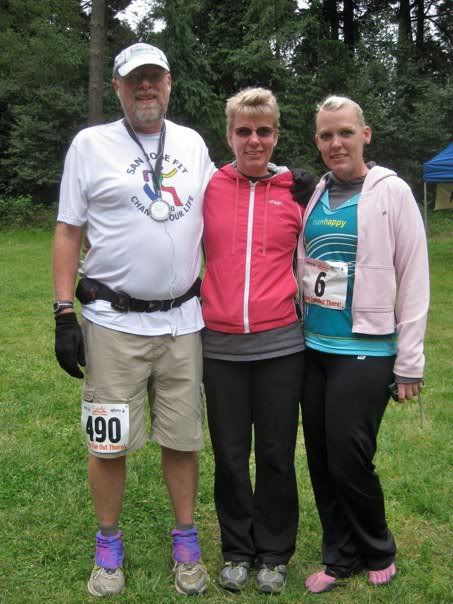 my mom who was doing the half came in around 6:02 and was very irritable. turns out she tackled an ultra half marathon adding a bonus 9 miles to her distance. Dad did his full in 7:53, but spent a lot of time using his handy map to point other racers in the right direction. Despite costal putting out lots of course marking ribbons unfortunately some vandal decided to take a majority of them down, causing the longer courses to have some issues.
Costal does not do mile markers but I had an idea because I knew aid station was 2.8miles out then you do a 1.8mile loop return to the aid station then have 1.7 miles back to the start. I was worried going into it that not having mile markers would make me uncertain and hurt my time, but I actually found it enjoyable not to stress on time and where I was as much and just enjoy the gorgeous scenic course (while not mauling myself on a rock or tree root). I had a lot of fun and really enjoyed my first race with Costal. 2nd 10k is done, next weekend I tackle Hellyer 10k with a child at my side.
after my racing 10k debut at the Mermaid run my parents coerced me into joining the Cinderella trail run this Saturday. I was sore for about 4 days after the mermaid run and was seriously doubting my sanity for signing up for a hilly 10k as my 2nd official 10k. I knew I wouldn't be making a PR but I figured a lot of people I knew were going and to just have fun out there.